How To NOT Get Trapped in the S-Quadrant
Just because you CAN do something … doesn't mean you SHOULD …
Most business owners, entrepreneurs, and real estate syndicators are massively talented …we're CAPABLE of making things happen on many different levels.
HOWEVER, when it comes to SCALING a business …
At some point we're going to come face-to-face with the reality that just because we're capable of doing something doesn't mean it's our highest and best use.
Let's look at Robert Kiyosaki's Cashflow Quadrant …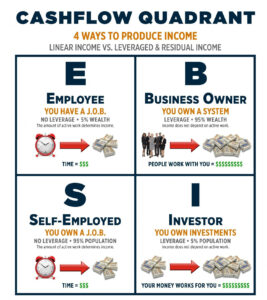 The goal for business owners is to be in the B-Quadrant … yet many aspiring entrepreneurs end up trapped in the S-Quadrant.
Why?
Because entrepreneurs have a "Savior" complex … just kidding! 😉
Well … only partly kidding …
We're the ones who have wildly audacious goals and firmly believe we're uniquely qualified to bring them to the world. And we absolutely are!
This belief is the edge we need to build a successful business AND it's also our kryptonite when it comes to SCALING a business.
So how do we overcome this … and quickly move from the S-Quadrant to the B-Quadrant?
First, don't be a bottleneck.
We do this by identifying our Sweet Spot. The place where our duty, skill and passion intersect.
Then we focus all of our energy and time on the responsibilities and tasks that energize us instead of drain us. And delegate everything that isn't our highest and best use.
Second, establish processes and people to keep you in your Sweet Spot.
Say goodbye to Groundhog Day!
Stop the madness of solving the same problem every day without any additional clarity, growth or improvement by creating scalable systems and processes.
Don't get trapped in a glorified job!
Working through qualified people is the key to creating leverage and getting your time back.
The truth is … we can play small or we can play big.
Getting trapped in the S-Quadrant is holding us back from bringing our offering to the world and serving the maximum amount of people.
Moving to the B-Quadrant requires personal growth … BUT it's the path for impacting even more lives without losing our sanity, health, and relationships.
May this inspire you to build a SCALABLE business and continue using your influence and intellect to serve more people!