Podcast Feature: Creating Predictable Execution From Operational Chaos
Have you heard the latest podcast feature?
I recently had the pleasure of being featured on the REL Freedom podcast with Mike Swenson, where we talked about how to create predictable execution from operational chaos.
Mike Swenson is the Founding Partner of Elite Advantage Properties and the host of the REL Freedom podcast. He is a passionate advocate for helping entrepreneurs achieve time and financial liberation through real estate.
Mike shares his own insights and experiences on the podcast, and he interviews successful entrepreneurs and business owners about how they have achieved their goals.
If you're a business leader, you know that operational chaos can be a major obstacle to growth. But it doesn't have to be that way…
In our conversation, Mike and I discussed some simple but effective strategies for creating predictable execution.
These strategies include:
We're not going to give too much away… but here are a few of the key takeaways from our conversation in the episode:
Operational chaos is a major obstacle to growth. It can be difficult to keep track of everything that's going on, and it can be even harder to make sure that everyone is on the same page.
There are simple but effective strategies for creating predictable execution 

which

 include using systems and processes to streamline your operations, building a winning team culture around people who are aligned with your vision, and taking the time to plan and organize your work.
Creating predictable execution is essential for business growth. When you have a system in place, you can focus on what you do best and let your team take care of the rest. This frees up your time so you can focus on growing your business.
I hope these insights inspire you to create your own predictable execution solutions from operational chaos.
If you're ready to catapult your business to the next level, I encourage you to listen to the podcast episode. You can listen now by clicking below: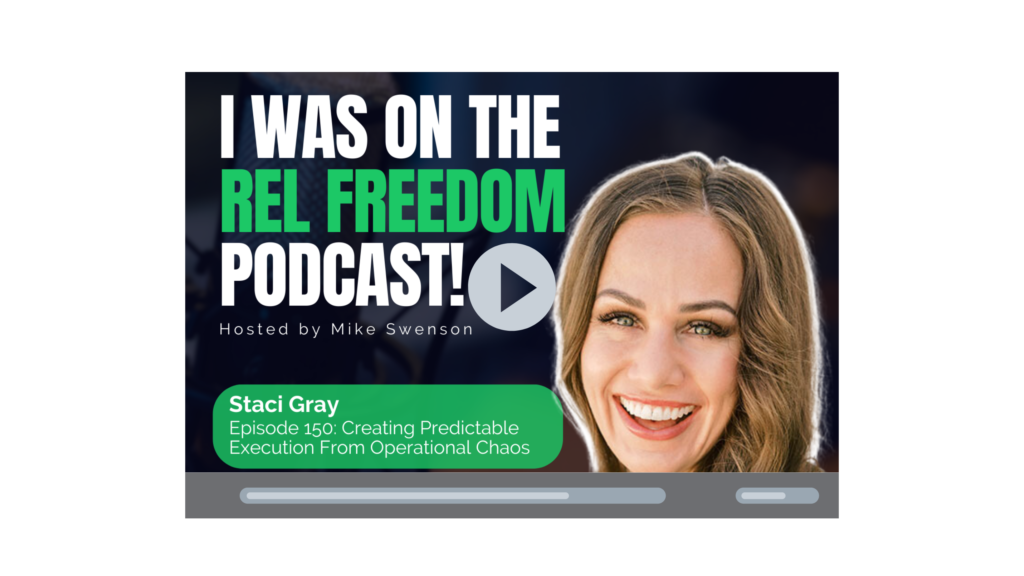 For help with setting these processes up in your business, schedule a business growth audit and dive even deeper into all the needle movers that your organization needs right now.
P.S. Are you interested in learning more about how Organize to Scale can help you build a business that you own that doesn't own you? 
YOU'RE INVITED to Join our Upcoming Exclusive Webinar>>>

Join us on Thursday, August 24
1:00 PM EST | 12:00 PM CST
We're excited for you to join us and together we can continue investing in the future of our business success.