4 Pillars of a Successful Syndication Business
This message is for entrepreneurial syndicators striving to go bigger, faster …
BUT feel constrained by needing to focus on outreach and operations at the same time.
If that's you … keep reading …
When building and scaling a business, everything seems urgent and important … and I mean E-V-E-R-Y-T-H-I-N-G.
I'm reading a book right now called Growing Pains, and it describes building a sustainably successful organization as being …
"about as easy as navigating uncharted waters in a leaky rowboat with an inexperienced crew while surrounded by a school of sharks.  
The sea is unfamiliar, the boat is clumsy, the skills needed are not readily apparent or not fully developed, and there is a constant reminder of the high costs of an error in judgement".
Ever feel like this?!  Haha
Especially as a Syndicator … because you're responsible for other people's money!  The stakes are high.
But don't lose heart … there is a proven process for building and scaling a business … AND the personal fulfillment and rewards can be unmatched!
However, navigating growth can be challenging.  
And that's one of the main reasons we surround ourselves with like-minded people who are a little further ahead of us in the process.
Community, camaraderie, and perspective are invaluable as we scale.
As you might already be experiencing, there's always a little bit of chaos when we're pushing for growth and expediting execution.
Yet, prioritizing everything as urgent and important makes efficiently executing nearly impossible.  And unless you have deep pockets … it's extremely expensive too.
So, what do you focus on?? 
Here are the 4 Pillars of a Successful Syndication Business: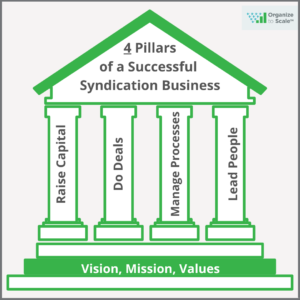 Raising Capital: Focusing on building your brand and building your network is the launchpad for raising capital.
Doing Deals: Focusing on finding and vetting deals and partners that align with your Personal Syndication Philosophy and ideal investor is where the match-making begins.
Managing Processes: Setting up processes and procedures creates the infrastructure needed to generate repeatable results and predictable profits.
Leading People: Getting the right people in the right seats and leading, managing and holding them accountable creates the confidence and leverage needed to scale.
Now, let's personalize this …
If you have a strong list of potential investors and you're great at doing deals, BUT …
you're burning the candle at both ends … then Leading People is the pillar to focus on.
you're re-inventing the process each time you do a task … then Managing Processes is the pillar to focus on.
If you have strong processes and a great team, BUT …
your investor list is dwindling, then Raising Capital is the pillar to focus on.
you're struggling to structure profitable deals, then Doing Deals is the pillar to focus on.
We could run multiple different scenarios, but you get the idea.
In our experience, entrepreneurial syndicators tend to gravitate towards raising capital and doing deals.
Managing processes and leading people tend to be on the back-burner until growth is blocked.  And then it becomes a necessity.
Wherever you're at in the growth cycle, it's important to develop each of these pillars so that you can scale without crumbling under the pressure of growth.
We hope this helps you prioritize and execute so that you can serve more people!