Building a Business Around Your Sweet Spot
Imagine a life and business that allows you to spend almost all of your time doing those things that energize you.
Your daily tasks and duties are in complete alignment with your mission and values … From the time you begin your day to the moment you log off for the day (and beyond), you're in a total flow state.
Sounds great, right?
We call that your "Sweet Spot" … the place where your duty, your skill, and your passion intersect …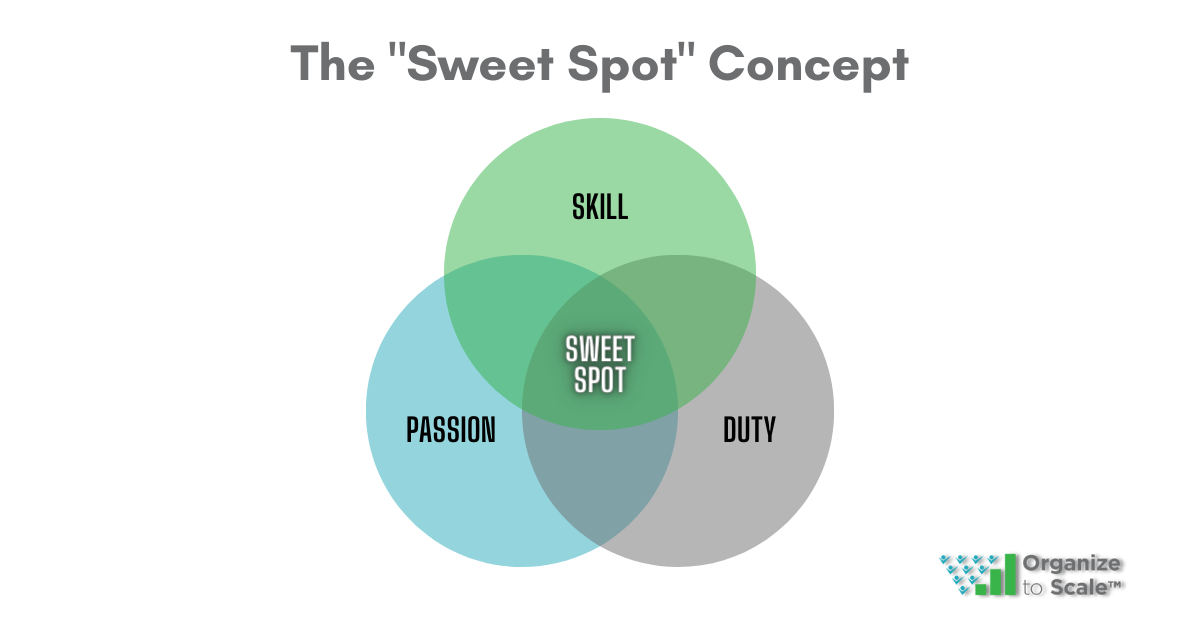 You (AND everyone on your team) have a sweet spot … And the more time you're able to spend there, the better!
When you have the opportunity (and discipline) to live in your sweet spot day-to-day, your business grows … You're happier and more energized to get up every morning driving hard towards your goals.
And the people around you are more excited too! Especially when they're also in their sweet spot.
In Jim Collins' book Good to Great he talks about first getting the right people on the bus, then getting them in the right seat …
So where's your seat on the bus? How do you get there? And how do you stay there while balancing all the responsibilities of running a business?
With the right tools and mindset, you can live in your sweet spot AND build a fully-engaged team that operates in their sweet spot too!
In our experience working with entrepreneurs, the number one thing we see happening when people aren't in their sweet spot is resistance.
If we find ourselves having to ask someone to own a task week after week and they're failing to execute, it's a sure fire sign that that thing is not in their sweet spot. This is true for both the visionary and their team members.
From our experience, most people who start syndication businesses are energized by things like talking to people, building relationships, being the brand ambassador, and of course, doing deals.
On the other hand, the things that often drain their energy is the monotonous day-to-day desk and computer work — tracking details, filing documents, setting up automations …
Maybe you can relate. Are there energy-draining items on your to-do list that you continually put off until the last minute … Or can't seem to get yourself to do at all?
If so, the first step is to ask yourself if … one, any of those things can be eliminated? Maybe your business will be fine without them altogether! Or two, can they be automated?
As for what cannot be eliminated or automated … You know the saying "One person's trash is another person's treasure?"
Well, all of those things you hate doing actually fall within someone else's sweet spot!
Handing off those tasks to someone who's happier (and oftentimes even more qualified) to do them is key to building a business around your sweet spot.
By delegating (not abdicating), you're better-serving yourself, your team, and your business.
Depending on what stage your business is in, it might not be financially feasible for you to hand off everything you don't like all at once. Instead, you'll most likely need to prioritize what to offload first.
To decide what to delegate and what to keep, the first step is to identify your sweet spot.
When you reflect on your growing list of things to do, where does each of those items fall in your Duties/Skills/Passions Diagram?
Duties that don't fall under your skills or passions are the first things you want to get off your plate. You don't like doing them, and you're not good at them … There's a good chance they're not even getting done.
Duties that intersect with skills are things you can do, but don't necessarily enjoy. Since it's a skill, you're qualified to train someone to do those things for you.
Duties that are passions but not skills … Even though you might like doing these tasks, if you're not good at them, you're doing your business a disservice by holding onto them. Instead, you can bring in someone who has the same passion for it that you do, paired with the skill to ensure it's getting done right.
Needless to say, sharpening our skills is always an option too! So if there's something that falls under this category that doesn't make sense to delegate … Or you simply don't want to give it up, you can seek out guidance or training to improve your skill in that area.
If you've eliminated, automated, and delegated as much as you can for now but still find yourself struggling to get certain tasks done, the next step is to perform this simple exercise we use at Organize to Scale™ to help business owners overcome resistance …
Rank your energy throughout the day from 1-10.For example: Maybe from 8am-11am you're at your best – A perfect 10. Then your energy and focus falls off a bit around lunch to a level 5. By 3pm-5pm you're ready for a nap … you're a 2 energy wise if you're lucky. You can use the same premise to rank your energy levels by the day of the week too.
Make a master list of all your tasks and rank those from 1-10 based on how much you enjoy doing them. Let's say for example this includes some paperwork (1), writing a newsletter (5), and recording an informational video about your current deal (10).
Plan your day in detail, scheduling time to handle the tasks that you least enjoy, but are critical to do during your higher energy time periods. Pencil in time to cross off your most energizing tasks during the time of day when you tend to need a boost.
As simple as it might seem, owning your schedule while keeping your energy and focus levels in mind can have a huge effect on your productivity!
And as your personal productivity increases, your business grows and you're able to delegate more tasks over time.
Little by little, you'll spend less time working IN your business and more time working ON your business … That's what scaling is all about!
Building a team and scaling a business isn't for the faint of heart … But if you continue to push forward with this 'delegate and elevate' mindset, before you know it … VOILA! You're suddenly living in your sweet spot surrounded by a team of great people who are also living in theirs.
Rather than focusing valuable time and energy on the have-to-dos you don't like or aren't great at, risking burnout … Or wasting away valuable time you could spend working on growing your brand and business … You're energized, motivated, and better-equipped to scale faster.
Of course, as whole beings we're constantly growing, shifting, and evolving. Our sweet spots can change too. So it's important to stay mindful of that as we move forward, constantly assessing our schedules and priorities.
If you want to be a better leader, spouse, teammate, and all the roles you play … And live a happier, more fulfilled, more productive life, it starts in your sweet spot.