How To Achieve FREEDOM as a Business Owner
We hope you had a happy 4th of July!
After a weekend filled with celebrations of our nation's freedom, let's talk about freedom within your business …
Chances are, if we ask any entrepreneur why they set out to start their own business, their answer can be simmered down and reduced to some form of this one simple word – FREEDOM.
Of course, we're not talking about political freedom …
We're talking about PERSONAL freedom. TIME freedom. FINANCIAL freedom.
The freedom to do what you want, when you want … Freedom to spend time with the people you care about … Freedom from the corporate rat-race … Freedom to be who and what we want to be.
So if freedom is the main source of inspiration and motivation for so many visionary leaders, why is it that so many end up getting trapped in the very businesses designed to create their freedom?
We've seen too many business owners become consumed by their own creation, sacrificing relationships, and drowning in operational chaos. In fact, that's the driving force behind OTS … to free them.
So the question is …
Rather than simply building a job for yourself, how do you build a business that can actually provide the freedom you want? How do you build a business you own that doesn't own you?
"You don't build a business. You build people and people build the business."
– Zig Ziglar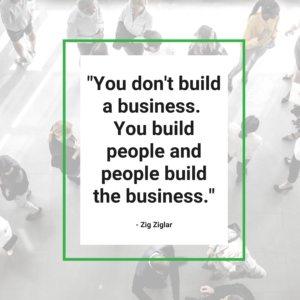 Sounds simple, right? The concept itself is simple, however, like anyone who's done it will tell you, building a team comes with its own set of challenges.
Having helped build and scale many successful businesses … We've learned a thing or two about what it takes to create a thriving organization.
And leading people is a BIG one. That's why we consider it one of the 4 Key Pillars of a Successful Syndication Business.
And if you're leading anyone anywhere, you have to be able to cast a clear vision.
In our previous newsletter, Are you naturally wired to be a Visionary or an Integrator? We listed "being unclear with our vision, yet, believing we are crystal clear" as one of common pitfalls and blindspots of visionary leaders.
As leaders of our businesses, if we fail to communicate the vision to the people we lean on to help bring projects to the finish line, we'll be left with an end result that looks nothing like we envisioned.
Imagine spending YEARS of your life building a business, only to wake up one day and realize your business OWNS YOU.
Heartbreaking, right?
It's more common than you think. Luckily, it's also totally avoidable.
In order for us as business owners to communicate our vision to a team, the first step is to make certain we're crystal clear on it ourselves. If yours is a little cloudy, clarifying your personal syndication philosophy is a good place to start.
With the vision in perfect focus, we're equipped to fill a crucial role in our businesses … The CRO (Chief Reminding Officer), who CONSTANTLY reminds the team WHO we are as a brand & business and where we're headed.
The CRO becomes even more crucial as the vision evolves … Which is bound to happen. That's why at OTS, for each brand, we schedule a strategy session every 90 Days to re-clarify and align its vision with execution.
Just like a big ship, it takes a crew to operate a high-performance business. The visionary is the captain at the helm, steering everyone in the right direction and making sure nobody goes overboard.
Constant and consistent communication between the visionary and their team lets the team make any necessary adjustments to their strategy and focus. It also helps create the high-trust environment in which businesses and teams thrive.
Once everyone on the team knows where the finish line is and the leader is confident in their ability to get there, we can begin to create the infrastructure (systems and processes) that serve as the framework for the business's day-to-day operations.
Which brings us to another of our 4 Key Pillars … managing processes.
True freedom happens when you have a revenue-generating business that runs regardless of where you are and what you're doing.
And you can get to that point a whole lot faster when you cast a clear vision and empower your people to create systems to execute workflows.
With proper systems and processes in place, a visionary can provide a simple directive and have confidence that the team knows exactly what to do next.
And spend more of their time enjoying the freedom they set out to create in the first place.